BUCH ZUM THEMA 'VERTRAUEN UND KREATIVITÄT'
Peter Lang Verlag, 2009
Welche Bedeutung hat Vertrauen für kreative Leistungen und Innovationen?
Was ermöglicht es uns, anderen und ganz unterschiedlichen Menschen zu vertrauen?
Warum ist Diversivität in der Dynamik der Internationalisierung in einer zunehmend
pluralistischen Gesellschaft für soziale, technische und organisatorische Innovationen
von Vorteil? Die Arbeit untersucht Vertrauen in dazu relevanten Wissenschaftsdiziplinen
und bringt diese Erkenntnisse mit dem Wissen und den Erfahrungen der Kreativitäts-
und Netzwerkforschung zusammen. Im Mittelpunkt des Interesses steht die Benennung
von Kriterien, die bei der Vertrauensbildung zwischen diversiven AkteurInnen in
Innovationsnetzwerken eine Rolle spielen. Die Autorin geht der Frage nach, wie diese
Kriterien positiv gestaltet werden können.
www.peterlang.com
www.amazon.de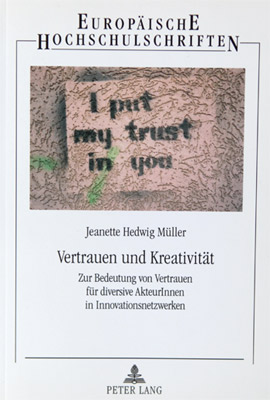 EN
MY BOOK ABOUT 'TRUST AND CREATIVITY. THE MEANING OF TRUST BETWEEN
PEOPLE WITH DIVERSE BACKGROUNDS WITHIN INNOVATION NETWORKS'.
Peter Lang Verlag, 2009
What significance does trust have for creative work and innovation? Which opportunities
open up to us when we trust other people? Why is diversity becoming advantageous
within the dynamics of internationalisation in an increasingly pluralistic society for social,
technical and organisational innovation? This thesis examines trust in relevant scientific
disciplines and puts its discoveries in relation to the knowledge and experience of
creativity and network research. In the centre lies the definition of criteria in which the
development of trust plays a role between diverse key players within innovation networks.
The author goes into the matter of how these criteria can become positive aspects.
... unfortunately just available in german.
I wrote this book because i think that conntectedness between people and ideas and
scientific ideas and research is so important. Separation has done it's work – now we
need to see a big picture and we need trust in each other. Creativity is the base of art
and science – and the base of social and technical innovations. Creativity needs
selfconfidence and cooperation.In my book I was looking for criterias which support trust
building ('trustrooms'). And I was focusing on a deeper understanding of the phenomenon
'trust'. For that purpose I explored 'trust' in political science,philosophy, social science,
economics and neuro science.